The 2020 Ideation Conference
The 2020 Ideation Conference is Postponed
---
More than ever, the global pandemic reminds us of our interconnection and the importance of caring for each other.
In the face of the unique situation we are experiencing, we must adapt in order to protect our local and international communities from the spread of the virus. It is with deep regret that we must announce that the conference "Ideation 2020: Creative Engagement in Philosophy for Children" and its related activities, as part of the biannual NAACI event, will not take place this June as planned and must be postponed until next year. We will be carefully coordinating new dates with those of other major P4wC events to maximize our future intellectual encounters!
We are very grateful for everyone's commitment and contributions, and we are truly sorry for the inconvenience this difficult decision will cause. Those whose research, workshop or poster proposal has been accepted will be of course invited to share their work again next year. In addition, refunds will be initiated in the coming days for all those who have already paid the registration fees. When things return to normal, we will contact you to let you know the new dates and confirm your participation in the new edition of the conference.
We would also like to express our appreciation for the exceptional work of all those who have helped to organize the conference. We are very enthusiastic to continue working alongside you in a context that demands – now, more than ever – creative solutions that are both bold and thoughtful.
Thank you for your resilience and your attention during this difficult and unprecedented period. Please do not hesitate to contact us at ipcj@philo.umontreal.ca if you require any additional information and support from our team.
Take good care of yourselves!
---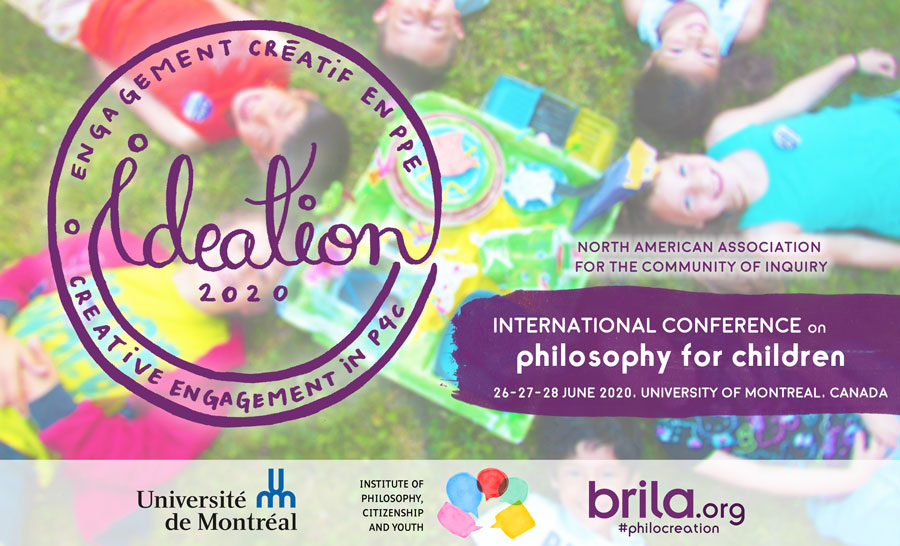 The North American Association for the Community of Inquiry presents...
Ideation 2020: Creative engagement in philosophy for children (P4C)
International Conference | June 26-27-28, 2020 | Montreal, Canada

The international "Ideation" conference aims to immerse participants in a vibrant atmosphere of co-creation around questions pertaining to the place of creativity in philosophical inquiry with young people and the adults by their side. In response to a world context with increasing demands for creative solutions that are both bold and thoughtful, this bilingual event will deepen our collective thinking around theoretical, empirical and practice-based approaches in P4C. Inspired by the Community of Philosophical Inquiry (CPI), the event will encourage conversations around the importance of creative agency, creative thinking and creative problem-solving in philosophical dialogue and beyond. To liven the exchanges, a crew of trained facilitators will work with subgroups of participants in their own "philosophical pods" to help deconstruct perspectives emerging from the sessions and offer some creative provocations to enrich the collaborative experience.
In addition to offering a selection of research presentations—including individual, panel, workshop and poster sessions—and opportunities for CPI dialogues, the conference itself will model various types of creative agency with participants of all ages to provoke and push our collective wondering around these important themes.
Pour l'information en français
Para la información en español
What's more…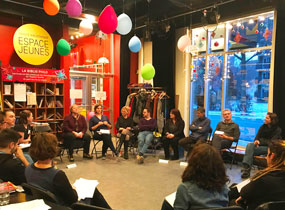 Pre-conference workshop: "Brila Bootcamp" – June 22-23-24, 2020
Curious about fusing philosophical inquiry with imaginative play? We invite you to participate in our three-day pre-conference intensive that will introduce the basics of Brila's "philocreation" approach to P4C through immersion in hands-on workshops using one of our pedagogical kits. The activities will combine philosophical dialogues with collaborative creative projects that are adaptable to a range of ages, from preschool through college. Participants will leave with the tools and skills to put the activities into practice in their own context. The three-day training is offered for $249, with the option of adding the three lunches prepared by the social economy catering project Les Filles Fattoush for an additional $30.
* Previous experience in P4C is required because "philocreation" principles build on the CPI method.You must submit a request (integrated into the registration form) describing your interests and experience as well as the reasons why the workshop interests you. Once your request is accepted, you can finalize the registration by paying the fees.
Tourist day: "Meaningful Montreal" – June 25, 2020
What do a mountain hike, indigenous history and artistic expression have in common? Immersive philosophical inquiry! We invite you to a one-day intensive discovery of the wonderland that is Montreal through our very own conceptual scavenger hunt that will introduce you to the many charms of our city. We will think, create, eat and play together, all the while visiting some key landmarks and experiencing the taste of Montreal—food, art, culture, live performances and more!
On the agenda for the price of $99: a visit to Old Montreal passing through the Pointe-à-Callière Museum followed by an al fresco lunch on a terrace nestled on the roof of the emblematic Hôtel Nelligan, overlooking the Old Port. The visit will continue with an exploration of Montreal's mountain nature at Mont-Royal Park, boasting exceptional views of the city and Saint-Lawrence River! Before ending our escapade with a stop at the Montreal International Jazz Festival, we'll take a worthwhile detour for a creative food tour of the ever cool Mile-End district, where the artistic atmosphere and multicultural roots will charm you, your eyes and your taste buds!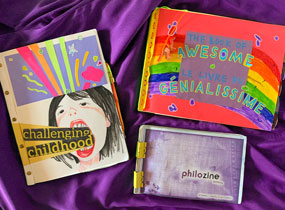 Publications:
Playing with Brila's "philocreation" approach, the creative outputs from the conference will be assembled into one of our philozines (philosophical magazine), to be shared with participants and the wider P4C community! Research contributions will also be showcased in a special issue of the academic journal Analytic Teaching and Philosophical Praxis and a book dedicated to creative engagement in philosophy for children, to be published by the presses of Université de Montréal.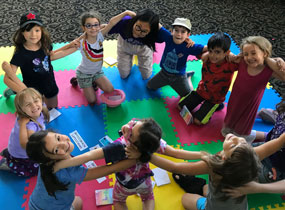 Youth engagement:
Brila's youth board composed of children and teens aged 4 through 18 will also attend some conference sessions to promote child-adult conversations around the importance of creative agency and philosophical inquiry. They will also share their experiences of growing up with philosophy as an integral part of their lives!
Proposals:

Proposals will be due December 9, 2019.
Submissions will be peer-reviewed by our conference committee.
Participants will be notified by in early February.


* Given that Canada's two official languages are English and French, submissions are welcome in both. Simultaneous interpretation will be provided for plenary sessions and assistance with translation will be available upon request. If you would like to present in Spanish, please contact us and we will be happy to offer support.
Location: Co-hosted by the Institute of Philosophy Citizenship and Youth and Brila Youth Projects, the conference and workshop will take place at the Université de Montréal, Canada's leading French research institution. Many of Brila's local community partners will offer opportunities to push creative boundaries, from youth theatre and circus arts to STEM initiatives, art-ivism outreach, eco-philo and emancipatory youth practices.


Accommodations: Conference participants may choose to stay on campus at the university residences or at a nearby hotel. To know all the options we offer and get the links to benefit from preferential rates click on the link bellow.
Accommodation options, links and prices


Meals: The lunches will be prepared by Les Filles Fattoush, a social economy catering project that offers first work experiences to Syrian refugee women by celebrating their culinary talent and their desire to share their culture and their history. At the price of $30 for three meals, you can enjoy a varied vegetarian menu, served eco-responsibly, while supporting this positive and innovative initiative that helps refugees overcome social, cultural and economic obstacles.


Registration: The registration fee gives you access to all presentations during the three days of the conference (June 26-27-28), and includes delicious coffee breaks as well as the cocktail reception and the artistic and intellectual performances of the big Open-House evening on Saturday June 27.

To benefit from the early registration price of $199, you must complete and send the online form before March 31, 2020. After this date, the regular registration price of $249 will apply.
If you are a university student at any level enrolled in full-time studies who is not otherwise employed, you may benefit from the student rate of $49.
If you are an emerging scholar who could benefit from financial assistance because you are not already receiving funding from another source, please write a brief email to info@brila.org explaining your situation before March 31, in order to be considered. * Please note that funding is limited and cannot not guaranteed.
We look forward to welcoming you in Montreal in 2020!