Training in philosophical practices
The department of philosophy of Université de Montréal in collaboration with the Institute of Philosophy, Citizenship and Youth present...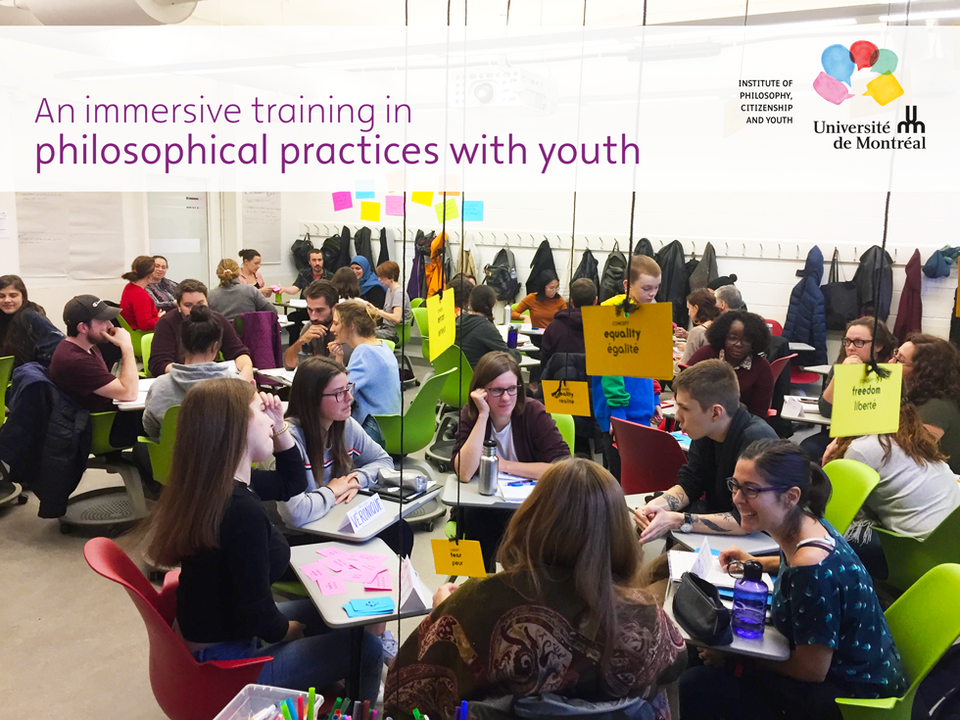 What?
Our training in Philosophy for Children (P4C) and philosophical facilitation for youth aims to introduce students to the practice and facilitation of philosophical workshops, according to P4C principles and foundations, while contributing to the re-conception of youth as a space of emerging citizenship rich in meaning and nuance.
The training offers an immersive experience in a creative, reflective learning environment. It takes the form of two intensive courses, followed by an internship. The courses are given in French, but written work can be completed in English, and internships are bilingual. Each course is given over weekends chock-full of all kinds of collaborative thinking and engaging ideas. This intensive format—which reflects a tradition in training programs focused on dialogical philosophical practices—will enable students to build their own community of inquiry, delving into the concepts and questions that matter to them most, while cultivating multidimensional thinking in order to take a critical, creative and caring look at the training's different dimensions.


In the fall, the course PHI 2450 – Principles and Methods in Philosophy for Children offers an introduction to the practice of P4C from theoretical and practical perspectives, not only by analyzing its foundations—its history, principles and methods—but also by giving students the opportunity to experience this practice firsthand in a Community of Philosophical Inquiry (CPI). The course examines the essential themes of P4C and explores the philosophical as well as educational drive of this eclectic movement, guided by a pedagogical approach that combines theory, exercises, collaborative dialogues and creative projects, drawing inspiration from the philocreation approach.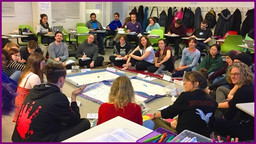 In the winter, the course PHI 3450 – Philosophical Facilitation for Youth takes the form of workshops in mentored observation and practice, enabling students to learn to plan and facilitate philosophical workshops inspired by the authentic questions of youth and supported by the traditional P4C curriculum, notably the CPI, and emerging dialogical practices, including philocreation. Thanks to rigorous theoretical aids, students familiarize themselves with the special stance required to facilitate collaborative dialogues in order to promote the deliberate use of thinking tools and inquiry intentions as well as the development of reflexive dispositions.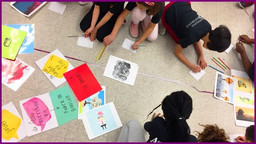 In the summer, students who wish to enhance their facilitation skills and benefit from the supervision and feedback of experienced practitioners can participate in an internship with one of our community partners' projects, including Brila's philocreation day camps. In addition, after completing this third stage of training, students will be able to contribute to the IPCY's community initiatives by applying to join its dynamic team, and even by pursuing graduate studies through the IPCY, within the philosophy department.
Who?
This training is designed for students who like to think together, who appreciate creative projects and who value emergent pedagogy. It may be of interest to students in field as varied as philosophy, education, psychology, social work, performing arts and social sciences, and is particularly relevant for individuals involved in activism, community development and youth empowerment.
Student testimonials
"I feel like in my life generally, I only use a very small part of my brain... but by the end of the first evening of the course, my whole brain was lit up! It's been so long since I have felt this way, it's almost the physical joy of thinking! I am so grateful to have had this experience."
— Ellen, volunteer coordinator for a community organization


"It is an experience of alternative philosophy. For those of us who have a background in philosophy, throughout our schooling, we are literally programmed to think or work in certain ways. This course opens and welcomes new perspectives, and allows a real practice of philosophy."
— Vincent, philosophy masters graduate and student in education


"We quickly recognized others' faces, then their names, their ways of being... and thinking! This is something that I don't see very often in student mobilization, which is dominated by confrontation and debate. We were able to talk about questions that are very deep and important, and yet I always came out of the course very happy, even if my ideas had been completely destabilized. Obviously there is material to learn, but I also realized how much I can learn from others, while engaging with others and building authentic relationships. Since then, I try to integrate this mode of dialogue in the activism meetings in which I participate and I've noticed such a big difference!"
— Dalie, activist and student in political science and philosophy


"I am so grateful for the dynamics of inclusion, the authenticity of the exchanges, the openness to differences, which are sometimes visible, sometimes invisible. But also, I am so grateful for the diverse pedagogy. I am a classroom teacher, and we talk so much about teaching differently... but how do we actually make that happen? This is how. I've never been so excited to go back to school since kindergarten!"
— Andréanne, high school teacher


"The course really changed my relationship with students. I tried many things that I learned during the course to help me do philosophy with them, of course, but also to help me in other subjects, like history. We had heated discussions and the students felt really engaged. There was even a little girl who told me: It's funny, all adults usually underestimate us..."
— Olivier, student of philosophy and substitute teacher in elementary school


"I am so happy to have discovered so many beautiful people who are authentic, sincere, capable of openness... I came to this course with the intention of being inspired... and it exceeded my expectations by far! I would like to thank the teachers for their fantastic work, but especially for their activism around youth issues. I think of my soul brothers and sisters placed in youth centers through child protection services, and how we should create a project for them. I have found here a method and allies to do that."
— Jessica, psychoeducation student

Why?
Beyond developing critical, creative and caring thinking, this dialogical practice aims to cultivate key dispositions like curiosity, collaboration and self-correction. Although the model was originally designed to enable children and adolescents to be heard by fighting against ageism and problematic child-adult relations, it can be used with all ages in numerous contexts, from preschools to retirement homes, hospitals, prisons, science centres and art galleries. This model therefore contributes to re-conceiving the role of philosophy beyond the walls of the university, and reinstate it as an important dimension of public life.
How?
The methods explored in the courses include both the classic model of the Community of Philosophical Inquiry (CPI) and the philocreation approach used by the IPCY, which integrates creative experimentation in each stage of the dialogic process, from the stimulus that provokes reflection to the philosophical magazines—or philozines—that act as artifacts of the group's thinking evolution. These approaches advocate the idea that thinking ought to be not only critical but multidimensional, and can be both playful and rigorous. Together, students will experiment with a range of dialogue types, from thought experiments to story circles, with an aim to better understand the evolving practices in the growing field of collaborative philosophy.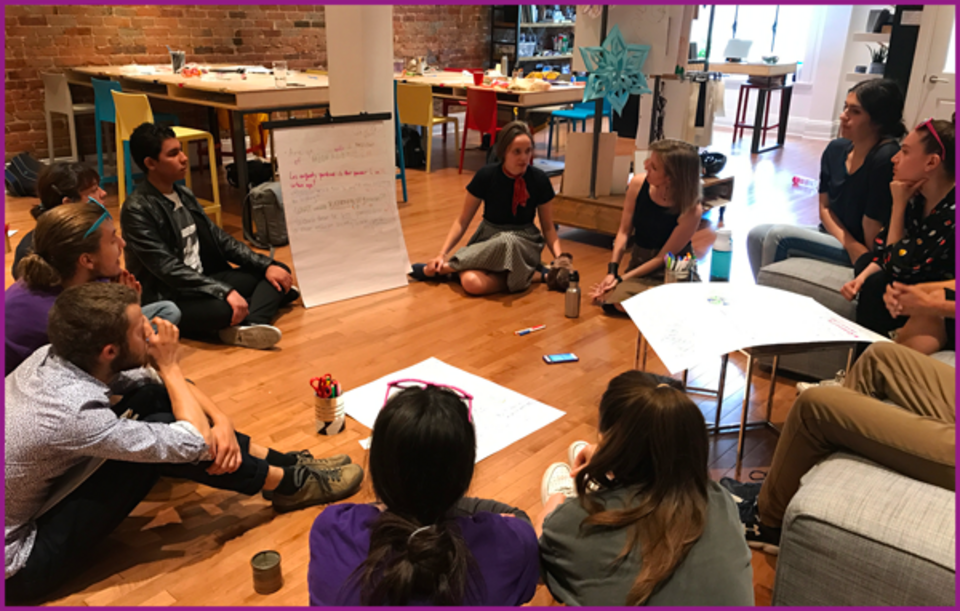 The course PHI 2450 — Principles and Methods in Philosophy for Children :
is open to all students of the Université de Montréal as an elective or as part of their program;
is available via the CRÉPUQ interuniversity agreement or for independent students;
counts for 3 undergraduate credits;
does not require any prerequisite;
is given over two weekends in the fall of 2020: introductory meeting on the afternoon of September 10, first weekend on November 6-7-8, second weekend on November 20-21-22.
For more information, please see the most recent version of the detailed course syllabus.


The course PHI 3450 — Philosophical Facilitation for Youth :
is open to all students of the Université de Montréal as an elective or as part of their program;
is available via the CRÉPUQ interuniversity agreement or for independent students;
can count for 3 undergraduate credits or as a graduate seminar;
requires course PHI 2450 as a prerequisite or equivalent experience validated by the professor;
is given over two weekends in the winter of 2021: introductory meeting in the afternoon of January 14, first weekend on March 12-13-14, second weekend on March 26-27-28.
For more information, please see the most recent version of the detailed course syllabus.

The internship :
is offered to all students who have successfully completed the PHI 2450 and PHI 3450 courses;
is recognized by the student engagement recognition program which can take three forms:

an official certificate
credit allocation (maximum 3 credits)
the Student Engagement Recognition awards.
For more information, please email ipcj@philo.umontreal.ca.
Covid-19 Notice: At the Université de Montréal, the vast majority of courses in the fall term will be offered online, but some teaching activities will take place in person. This could apply to the PHI 2450 course, whose particular format requires active participation by students. Should this be the case, we will take the necessary measures to ensure the safety of our community and comply with public health directives. Accordingly, the theoretical part of the course would be offered online and the group would be divided into small teams for the practical workshops, in order to respect social distancing. The course format will be confirmed to registered students in due time.