Course in philosophy for children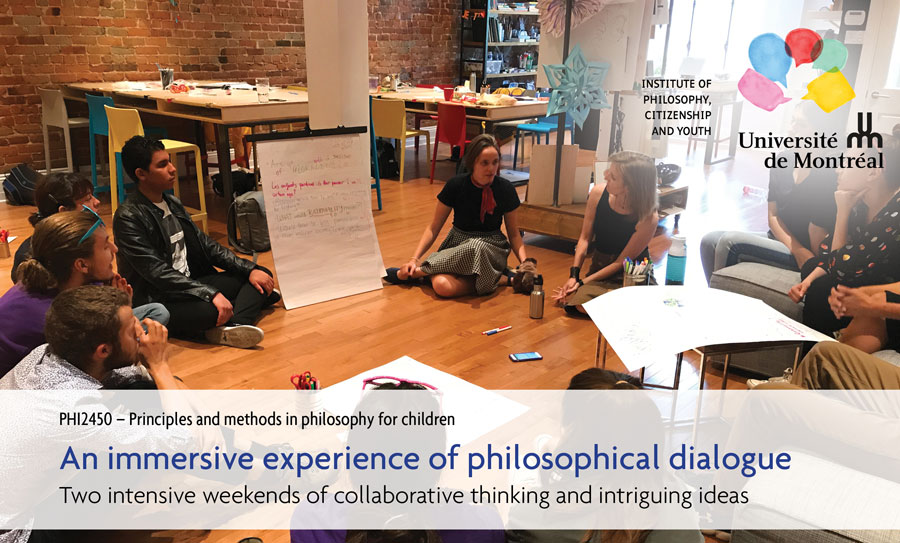 Le department of philosophy, in collaboration with the Institute of Philosophy, Citizenship and Youth, presents...
PHI2450 – Principles and methods in philosophy for children

What?
The course PHI2450 offers an immersive experience in a creative, reflective learning environment over two weekends. This intensive format—which reflects a tradition in training programs focused on dialogical philosophical practices—will enable students to build their own community and delve into the concepts and questions that matter to them most. The group will explore key themes in the Philosophy for Children (P4C) model, guided by a pedagogical approach that combines theory, exercises on thinking skills, collaborative dialogues and creative projects, and culminating in the creation of philosophical plays.
Who?
This course is designed for students who like to think together, appreciate creative projects and value emergent pedagogy. It may be of interest to students in field as varied as philosophy, education, psychology, social work, performing arts and social sciences, and is particularly relevant for individuals involved in activism, community development and youth empowerment. Students who wish to deepen their knowledge of this method can register for the follow-up seminar that will take place in the winter semester, or consider an internship with the Institute of Philosophy, Citizenship and Youth, or pursue graduate research at the Institute.
Why?
Beyond developing critical, creative and caring thinking, this dialogical practice aims to cultivate key dispositions like curiosity, collaboration and self-correction. Although this model was originally designed to enable children and adolescents to be heard by fighting against ageism and problematic child-adult relations, it can be used with all ages in numerous contexts, from preschools to retirement homes, hospitals, prisons, science centres and art galleries. This model therefore contributes to re-conceiving the role of philosophy beyond the walls of the university and reinstate it as an important dimension of public life.
How?
The approaches explored in the course include both the classic model of the Community of Philosophical Inquiry (CPI) and the "philocreation" method used by the IPCY, which integrates creative experimentation in each stage of the dialogic process, from the stimulus that provokes reflection to the philosophical magazines—or "philozines"—that act as artifacts of the group's thinking evolution. These approaches advocate for the idea that thinking ought not be only critical but multidimensional, and can be at once playful and rigorous. Together, students will experiment with a range of dialogue types, from thought experiments to story circles, to understand this evolving practice in the growing field of collaborative philosophy.

This course is:
Offered to all undergraduate students at the University of Montreal as an elective course and to independent students from other institutions;
Counts for three credits and has no prerequisites;
Is offered in French over two weekends in the fall of 2019: introductory meeting on September 12, first weekend on November 1-2-3, second weekend on November 15-16-17.
For more details, please see the detailed course outline available on the website of the philosophy department and download the course description (both documents available in French only).