Welcome to PhiloQuests!
The unprecedented situation we are currently facing is raising big questions and provoking experiences that are at once unsettling and uplifting. In a context that forces us to isolate ourselves and reconsider our bearings, it can be highly beneficial to offer even tentative answers. PhiloQuests respect young people's ability to explore these new questions by providing a supportive atmosphere where they can search for meaning with both integrity and playfulness. The quests are organized in relation to the concepts that are their most alive in their minds during this time of crisis, from creativity and help to worry and hope.
Your mission, should you choose to accept it, is to accompany young people as they turn into Philoquesters who can undertake great philosophical quests that will lead them to explore the mysterious land of imagination, venture on the highest peaks of reflection and cross majestic valleys of creation. Just because we're in isolation, it doesn't mean we can't have adventures in our mind!
The Institute of Philosophy, Citizenship and Youth (IPCY) team is very proud and happy to present this diversity of free activities, designed in collaboration with our community partners, including the magazines Les Débrouillards and Les Explorateurs, Radio-Canada, as well as Brila Youth Projects, which shared a significant part of the philocreation program presented here!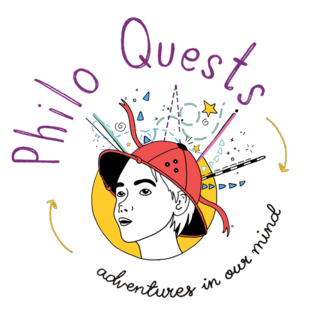 What?
Over a hundred free activities of creative reflection for youth!
When?
Anytime—all at once or separately—depending on your needs and preferences!
Who?
Young people of all ages... and all those who are keen to try!
Where?
In the comfort of your own home!
How?
By thinking outside the box with our online resources!
Fostering autonomy. PhiloQuests contain a combination of active reflection and creative missions. Simply follow the instructions available for each activity, draw inspiration from the examples presented, and use the supporting documents provided. PhiloQuests are designed to be easy for young people to follow, but adult accompaniers can certainly help them read the instructions and make sure that all the necessary materials are available... so that they can explore independently once the quest is underway!
Supporting discoveries. Philoquesters will no doubt encounter some words they've never come across before! True to the experiential learning approach, we believe that it is by doing exercises and observing examples that they will discover and internalize the meaning of these words. You can also help them by offering examples that concretize abstract ideas, without necessarily giving them fixed definitions—especially since in philosophy, developing definitions is part of the adventure! To explain the term "concept," for example, you could say: "Though every dog is different, the concept of 'dogness' includes all dogs. Similarly, though each instance of injustice is unique in its own way, the concept of injustice includes all these situations."
Gathering ideas. In order for Philoquesters to keep track of their reasoning and not lose any ideas along the way—since these mischievous entities tend to want to escape!—it might be helpful for them to use a philosophy notebook. This record can take many forms! You can give new life to a forgotten journal or to unused school supplies. If you don't have a notebook at your disposal, you can also staple a few blank sheets together. Philoquesters can personalize the cover of their notebook by imagining a map to help them find their way—or happily lose themselves—during the PhiloQuests!
Encouraging thinking. For each question asked, it is important for Philoquesters to take the time to stop and think while having a dialogue with themselves or with others. To encourage thinking, the magic word is "why!" By asking "why" when a Philoquester offers a response, you encourage them to find reasons—that is, explanations or justifications that support their reasoning. Indeed, all philosophical questions are contestable: several different answers may be possible, but these must be accompanied by reasonable judgments, built during both introspective and collaborative dialogues!
Valuing effort. P4C is a pedagogy that revolves around questions, not answers! Philoquesters can successfully end an activity with far more questions than when they began... and with completely destabilized conceptions of words they thought they understood! It is important to redefine our notion of progress and to value the work accomplished by taking a moment to reflect together at the end of an activity or when a quest is completed. What tentative definitions of key concepts do we have now? What possible answers can we give to the questions asked? You can write down the new questions that arise to preserve them as precious treasures from the quest, and address them later to further thinking... for both Philoquesters and yourself!
Sharing ideas. The ideas that emerge from this journey deserve to be shared! Sharing not only contributes to valuing the hard work accomplished, it is also faithful to the principles of P4C: to think for oneself alongside others. This is why we invite all Philoquesters to share their perspectives with their loved ones, and to share their thoughts and creations with us by sending photos of their projects to ipcj@philo.umontreal.ca so that we can showcase them on the PhiloQuests' online platform!
Why?
Because creative philosophy has emancipatory power!